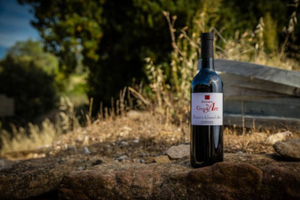 Domaine du Grand-Arc - Réserve 2021 (rött/red): An exceptional vintage (6 bottles left)
Domaine du Grand-Arc - Réserve (red/rött): Located in the remote Corbières in the foothills of the Pyrénées,  Domaine du Grand-Arc takes advantages of the altitude of its vineyard to produces beautiful natural wines which combines the traditional aromatic generosity of southern France wines with a finesse and freshness only seldom found in those wines. 
Réserve 2021 is made of Carignan, Grenache and Mourvèdre grapes as usual. However the year  2021 having neen much cooler than usual, this vintage of Réserve is very different from the previous ones, offering a mouth of fresh rather than ripe fruits and much softer tannins than usual. Still a very expressive wine with great intensity and length in mouth,  Réserve 2021 is a very pleasant surprise and a testimony to how climate can reflect superbly in natural wines. Better served around 14°C, Réserve can accompany a great variety of food, from everyday food to more gastronomical meat dishes.

Priset gäller för 1 flaska på 75cl / Price is for one 75cl bottle.
För leveranser utanför Skåne läggs transportkostnaderna från Malmö till leveransadressen till försäljningspriset. / For deliveries outside of Skåne, the cost of transport from Malmö to the delivery address will be charged on top of the disclaimed price.