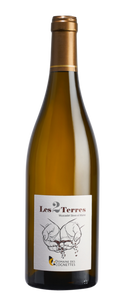 NYHET - Domaine des Cognettes - Les 2 Terres 2021 (vitt/white)
The 2 Terres cuvées is a classic of the Perraud brothers, with its name coming from the 2 different soils its grapes grow on: on one hand granite (harsh and warm) and on the other the rare gabbro stone (colder thus getting ripe later, but richer in terms of aromas).
This Muscadet white wine is made with « Melon de Bourgogne » grapes and features a  neat and quite powerful aromatic structure (white and yellow fruits) supported by the right acidity and a long and pleasant ending. A rich "all-rounder" white wine that will be able to be paired with a variety of food from fish and seafood to cheese and poultry, and will not disappoint.
Can be served around 10°C with fish, seafood, salad and light cheese, and a bit warmer, around 12, with poultry or stronger cheeses. 
Priset gäller för 1 flaska på 75cl / Price is for one 75cl bottle.