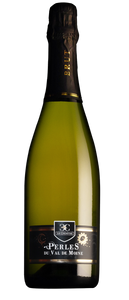 NYHET - V. & S. Perraud - Perles du Val de Moine 2021 (mousserande/sparkling white): Marine Freshness
The "Perles du Val de Moine" is the sparkling white wine that the Perraud brothers have been making with great expertise for years using the traditional Champagne method.
Using a blend of Chardonnay, Folle blanche and Pinot Noir grapes, the 2021 vintage offers remarkably fine bubbles matching perfectly the lightness and freshness of this fine sparkling wine.

Well-balanced and elegant with a distinct personality, this dry sparkling wine is a great variation to Champagne and a perfect afternoon party- or evening-starter.

Better served cold, around 8°C.
Priset gäller för 1 flaska på 75cl / Price is for one 75cl bottle.

För leveranser utanför Skåne läggs transportkostnaderna från Malmö till leveransadressen till försäljningspriset. / For deliveries outside of Skåne, the cost of transport from Malmö to the delivery address will be charged on top of the disclaimed price.