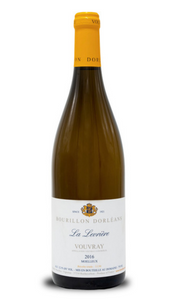 Domaine Bourillon Dorléans - La Levrière 2016 (sött vitt/sweet white): Sweet with standing
Founded in 1921 the Bourillon Dorléans estate covers today more than 20 hectares of vines located on the best hillsides of Vouvray in the heart of the Loire Valley. Vouvray is famous for its white wines made of Chenin which come in all their variations: dry, sparkling, sweet.

For 3 generations the Bourillon Dorléans family have maintained a traditional and high standard of winemaking to maintain the quality and authentic typicity of their wines. They practice a sustainable farming and use only natural and organic pest management.
La Levrière 2016 is one of their sweet white wines. With its deep yellow colour with orange hues and its rich and soft palate it introduces you to the opulent world of sweet wines but keeps you there with its superb and refreshing balance between the sugar and the acidity. Aromas of ripe nectarine and poached apples with exotic threads of pineapple and mango makes it a fantastic dessert wine. Pairs also very interestingly with foie gras and blue cheeses.
Better be served around 11°C. Can be opened and put in a carafe 2 hours prior to serving.
Priset gäller för 1 flaska på 75cl / Price is for one 75cl bottle.
För leveranser utanför Skåne läggs transportkostnaderna från Malmö till leveransadressen till försäljningspriset. / For deliveries outside of Skåne, the cost of transport from Malmö to the delivery address will be charged on top of the disclaimed price.