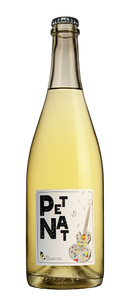 NYHET - S. & V. Perraud - Pet Nat des Cognettes 2021 (mousserande/white sparkling): The Return of the Best Nat
Made of a blend of Chardonnay and Folle Blanche grapes, this sparkling white wine  is made using the ancestral method without any additives: the wine is bottled before the fermentation is completed and it goes on in the bottles thus producing CO2 and the fine bubbles resulting in a naturally sparkling wine (called "Pétillant Naturel" or "Pet Nat").
This 2021 vintage is dry and round at the same time, with fine bubbles and good length in mouth.  A sparkling wine well adpated to the party season as it can be paired nicely with light cheese and other treats.

Better served around 6 to 8°C.

Priset gäller för 1 flaska på 75cl / Price is for one 75cl bottle.

För leveranser utanför Skåne läggs transportkostnaderna från Malmö till leveransadressen till försäljningspriset. / For deliveries outside of Skåne, the cost of transport from Malmö to the delivery address will be charged on top of the disclaimed price.